IN MEMORIAM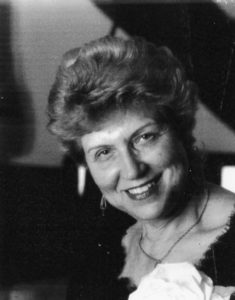 Dr. Rosalina Sackstein, long time member of the Miami Music Teachers Association passed away on February 14, 2017 at the age of 93.
How appropriate on Valentine's Day to meet her beloved husband, Harold, who passed away approximately 7 years prior. Rosalina and Harold attended many, if not all, the MMTA events, meetings, and concerts for so many years. If you have ever taken piano lessons you may have seen them.
Dr. Sackstein was Professor Emeritus in the field of Piano at the University of Miami. She received B.S. and B.A. degrees and a Performer's Certificate in piano, violin, theory, and solfege from the Conservatory of Music, Camaguey, Cuba. She was a student of Claudio Arrau, Isabelle Vegerova, and Rafael DeSilva. As pianist performing with orchestra, soloist, conducting master classes, judging, and piano workshops.
Twice, she was President of MMTA. She was tireless, authentic, and a source of information. She was also President of the Miami Civic Music Association, and promoted her students to actively jump start their music careers. The list of musicians she assisted is long and to know her was to be grateful for her dedication and drive for perfection in her students.
She leaves behind a large family and as large a gallery of music students, colleagues and friends. She was highly respected and in demand leaving a long trace of University of Miami graduates, as well as private students. If you were involved in music between the years 1960 and 2009 at some point you probably met.
Writing about Rosalina could never capture her essence of the wonderful person and musician she was, but will remain forever in our hearts.